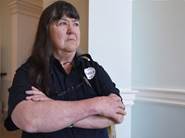 SUE WEBB
Distinguished Service Award
Helping our town with a critical need was the calling of Sue Webb. Her love for animals surely helped. That's why we will all miss Sue Webb, Wellesley's newly retired animal control officer. This year, we salute her with a DISTINGUISHED SERVICE AWARD, for more than four decades of work for the town.
Throughout her years with the Police Department and as a Wellesley resident, Sue redefined the role of animal control officer, educating, protecting, and serving as a voice for animals.
Sue has many colorful stories about Wellesley and the pets and animals that are part of our lives. The Boston Globe had this anecdote,
"Over four decades as Wellesley's animal control officer, Sue Webb fielded countless calls from residents. But some of the most memorable came when people mistook rubber toys for dangerous creatures.
"Somebody wanted me to shoot a copperhead [snake] in somebody's garden … but we don't have copperheads around Wellesley, and it turned out to be a rubber snake," Webb said. "I was like 'Aren't you glad we didn't blast rubber all over the neighborhood?'"
Sue Webb was also a great voice for change. She lobbied for state laws to keep dogs and cats safe and prevent unclaimed strays from being used for research.
Thanks to her we have bylaws requiring pets to be licensed and vaccinated. Her vast animal behavior knowledge was always shared with schoolchildren and at community events.
Mahatma Gandhi said, "The greatness of a nation and its moral progress can be judged by the way its animals are treated." Sue Webb taught us this lesson well. Sue retired on Jan. 4, 2021, leaving behind a legacy of pets and people who are much better off because of her outstanding efforts. Thank you, for all you have done for the animals and for us.